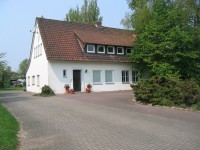 In 2005 we moved to a new location for our growing activities. The building was an former german sweet factury in Burgdorf nearby Hannover (25min from airport) which we rebuild up to an modern and innovative IT company...
Road into the greens.
Burgdorf is located near to Hannover and 25min away from Hannover airport. Perfect traffic connection to german railway (5 min from office) or the the german main Autobahnen A2 and A7...
Entrance gate with dogs. We prefer a continous running of 1 up to 3 dogs at the backyard every time. Because of this visitors have to be announced to secure the dogs...
Marketing workaday life picture: creating a white background product picture under ideal light conditions with a special housing round the product and especially bright natural light. Phographed in meeting room...
Same room. Is used for visitors and meetings and prepared for the next visit, strategic talking about next project or even for a coffee break to talk with our programmers...
Technical engineering for special projects. Testing and service center because we need to know the details before our customers ask...
Modern fast ethernet connection is available in offices and working rooms 24/7. Checking a system for a special burn-in test...
Again a testing environment. A check for a preconifigured JAVA software at the panel PC OTP57V...